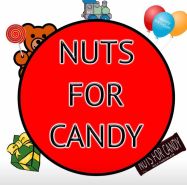 Nuts For Candy
ADDRESS
1241 Broadway, Burlingame, CA 94010
---
Business Intro
For the safety of our community and our staff, we are closed.
We have put all our products as "out of stock" to prevent any purchase.


John and Nora Kevranian were honored at the State Capital on May 25, 2016 as recipients of Small Business of the Year in recognition of their Burlingame business 'Nuts for Candy'. John, a South San Francisco native, and his wife Nora have been owners of this sweet landmark shop on Broadway Avenue since 1994 and have grown it into the family business as their children also learn the trade. The store is filled with over 400 types of candies, many that are speciality items difficult to find, and is the perfect stop for any child, young or old.

The Kevranian's are also community leaders and work tirelessly to help the Broadway Burlingame downtown district, John is currently President at Broadway Burlingame Business Improvement District. The couple have received multiple awards for their work in the community. John recently received the Community Mentor Award by the Board of Supervisors of San Mateo County and PeninsulaWorks for his outstanding work over this past decade as a mentor to youth in our community.

The Small Business Award comes to them by nomination by Speaker Pro Tempore Kevin Mullin in District #22 and is among on of 80 small business awards of approximately 3.3 MILLION small businesses in the State of California.

Nuts For Candy was started in 1994 and continues today as a family owned business. It founded by John and Nora Kevranian and conveniently located in the heart of Burlingame. Nuts For Candy is a landmark store in Burlingame and a big part of the character and charm of the quaint downtown area. With over 400 different candies from all around the world, there is no lack of variety. All the current favorites are here, as well as all the oldie-but-goodies.

Whether you are looking to impress a child or a grown adult, few can resist the allure of a bag of their favorite flavor of gourmet Jelly Beans, a well loved candy bar or even a special unexpected stuffed animal friend. Nuts for Candy has the treats that touch a chord within anyone.

Just like any good candy shop, Nuts for Candy has a full wall devoted to bulk candies inside bins to maintain freshness. The process is simple: grab a clear plastic bag from the pile sitting on the counter and make your way up and down the rows of candy bins and fill your bag with your favorites. Nuts for Candy has a great selection of Jelly Belly jelly beans to mix and match to personal taste. Crushed Pineapple, Berry Blue, French Vanilla, Peach, Lemon Lime, Island Punch… the flavors seem to go on forever! This method of buying Jelly Bellies is perfect if you have some specific favorite flavors, or want to create the perfect Jelly Belly combination so that every handful is the perfect ratio of flavors. Nuts for Candy also carries bags of assorted Jelly Bellies as well for those that like to be a bit more adventurous with their candy.

Beyond jelly beans, Nuts for Candy carries just about any wrapped or bulk candy you've ever known. Clark's Bars, Malo Cups, Bit-O-Honey, Chocolate Covered Gummy Bears, Bulk Reese's Pieces. They're all here and ready for the taking. If you thought that was all the delicious sweets you could possibly stuff into one shop, well then you'd be wrong! Nuts for Candy the complete sweet tooth experience.

Nuts for Candy also has collectible stuffed animals that are perfect for people of any age. From classic Beanie Babies to the new Ugly Doll sensation Nuts For Candy has a huge selection of these collectibles. Whether you want a cute key chain attachment or a large cuddly gift to show your affection, you can't help but find something perfect here at Nuts for Candy.

Lastly, there is always plenty to see in downtown Burlingame. After you stock up on candy and toys, you will find a great selection of restaurants, groceries, clothing and gift shops nearby.

See you real soon!

Opening
Hours
Image gallery
Coming soon!
Video gallery
Coming soon!